Greetings from Earth Formosa "Andi Irwansyah Mattupuang"
15/07/2021
|
1607 kali
|
News
Warmest regards for all of you from Formosa, Taiwan. Hi everyone, my name is Andi Irwansyah Mattupuang, an alumnus of Accounting Department, 2013, Indonesia University of Education. I'm recently working and cooperating with one of the export-import companies in Taiwan. Being at this stage would be impossible without the blessing of Allah, my parents and, of course, all the scholarship programs that I have been through.
Since graduating in 2017 from Accounting Department, UPI, remembering all the last messages from my late father who passed away when I was on the way to my final exam always made me determined to continue my study.
I almost gave up on the way I pursued it due to lack of language skill, so it is difficult to get scholarships for studying in Indonesia, let alone abroad. One day, I read a scholarship advertisement flyer from the internet that gave me information about the Teaching Clinic scholarship program in Kampung Inggris, Kediri which provided free English learning for young people who have a great interest in English.
Thousands of people registered for the program but only 30 people were accepted into the program, including me.
The program made me meet great people who have dreams to continue their study abroad.
Through the scholarship, I began to hone my skills. We did not only learn English but also learn self-knowledge, social, leadership, and teaching skills.
After graduating from the program, I was more burning with curiosity about study overseas, so one day I found information about TEEP (Taiwan Experience and Education Program) from DIA, UPI. TEEP is a summer course program held by National Quemoy University to invite people from all over the world to learn mandarin and learn more about the culture in Taiwan. Moreover, this program also provides general lectures about many things using business perspectives. To have more real business experience, the committee even gave us an opportunity to do an internship at one of the companies in Taiwan. That was the beginning of my curiosity about the business world getting raised. It was the most valuable experience I've ever had in my life.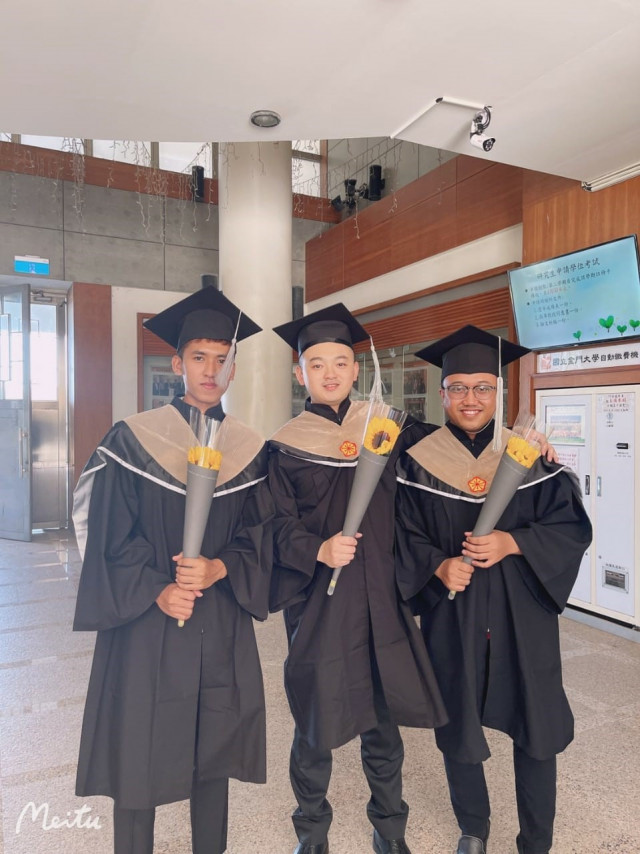 Throughout the program, DIA (UPI) was constantly guiding and asking how we were doing. The program is actually the collaboration activity between UPI and NQU in educating and providing different learning experiences for students. During the program, we were visited by Prof. Dr. H. R. Asep Kadarohman, M.Sc.,, Chancellor of the Indonesia University of Education.
Not graduated yet from the program, I was suddenly offered by one of the professors from the university to continue my study at department of Business Administration with a fully funded academic scholarship offer. If I had interest in it, I'd be welcome to take part in the college entrance exams which were held in that semester.
With careful consideration of all the consequences, prayers, and asking for my Mom's, brothers', and sister's opinion, I finally decided to take the exams.
Passing the exams, I was, finally, accepted into the Department of Business Administration, National Quemoy University. There were many things that I experienced while studying here, starting from forming and becoming the chairman of the PPI (Indonesian Student Association) in this college, actively participating and working with IETO (Indonesian Economic Trade Office) in Taipei, representing NQU and winning 3rd place in the competition (Discovery Sustainability) involving groups of international students from all universities in Taiwan, as well as other very educational matters.
The whole experiences I have teach me that every steps in life is a learning process, if we can enjoy all the process, we will find that what we face on the way to the goal is more important than the goal itself.
Good luck and keep fighting, guys.
---