Webinars Akhwat: Wanita Millenial Dalam Peran, Gerak, dan Prestasi Tanpa Insecure
Zoom Cloud Meeting Application
12/11/2021 3:00 pm s/d 12/11/2021 5:00 pm
Detail:
Webinars Akhwat 2021
Assalamu'alaikum Wr. Wb.
Who is not proud to be a woman? Gotta be proud
Because, Women have a noble position
However, being a beautiful woman is not enough, we must be able to make achievements, be useful for society and without insecurity. Of course, in order to become a millennial woman who excels in roles, movements and achievements without insecurity
For that, let's study it together at the Brothers Webinar with the theme
"Millennial Women in Role, Motion, and Achievement Without Insecure"
Together:
Inggit Yusrina
- Entrepreneur and Finance Director
- Co-Founder @teamup.id
Dini Sri Mulyati, S.pd
- Content Writer and Digital Literacy Enthusiast
which, God willing, will be held on:
Friday, 12 November 2021
15.30 WIB until finished
Via Zoom Meeting
Facilities:
E-Certificate
door prize
FREE to the public
Note: *Special for Women*
For more information, please contact CP:
? 0817160103 (Bella)
So.. How are you? Are you ready to be a Millennial Woman who excels in Role, Movement and Achievement Without Insecurity? ?
Don't forget to write down the date and time. See you at the Brothers' Webinar
Wassalamu'alaikum Wr. Wb.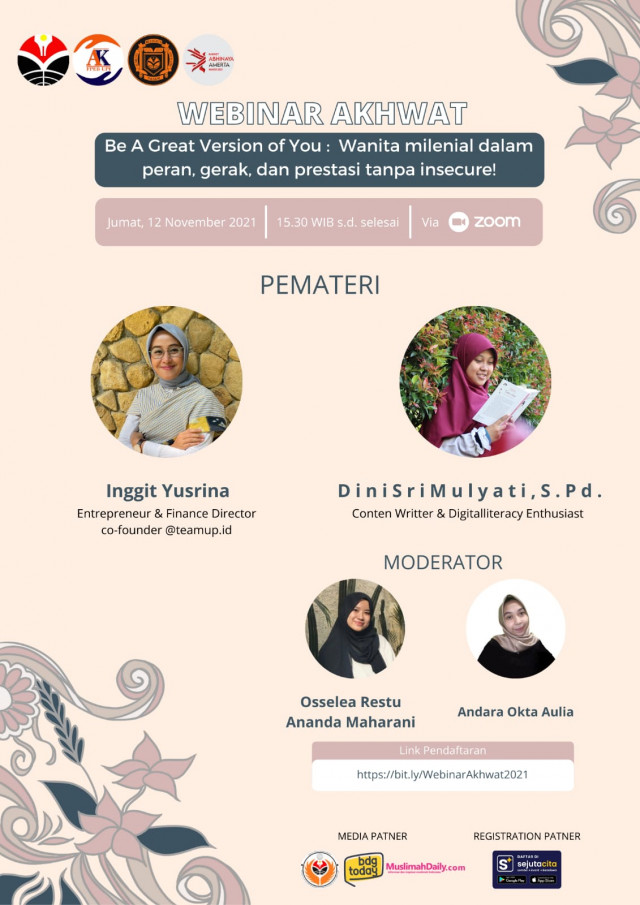 ---