Seminars Motivation
Zoom Cloud Meeting Application
08/04/2021 3:30 am s/d 08/04/2021 5:30 am
Detail:
Assalamualaikum Warahmatullahi Wabarokatuh
Praise be to Allah SWT for giving us health favors, physically and spiritually. May we always be in His grace, guidance and always be always grateful for all His blessings.
On this happy occasion, the Accounting Study Program FPEB UPI presented a "Motivation Seminar" with the theme "Distinguish Your Morals, Success Will Accompany You". Insya Allah, this seminar was delivered by a great resource person who was the Imam of the Sirothol Mustaqim Ansan Mosque in South Korea in 2017, namely Ustad Faisal Kunhi, Ma.
Of course, provide useful knowledge for us, insya Allah. Don't miss it to take part in this seminar.
Wassalamualaikum Warahmatullahi Wabarokatuh.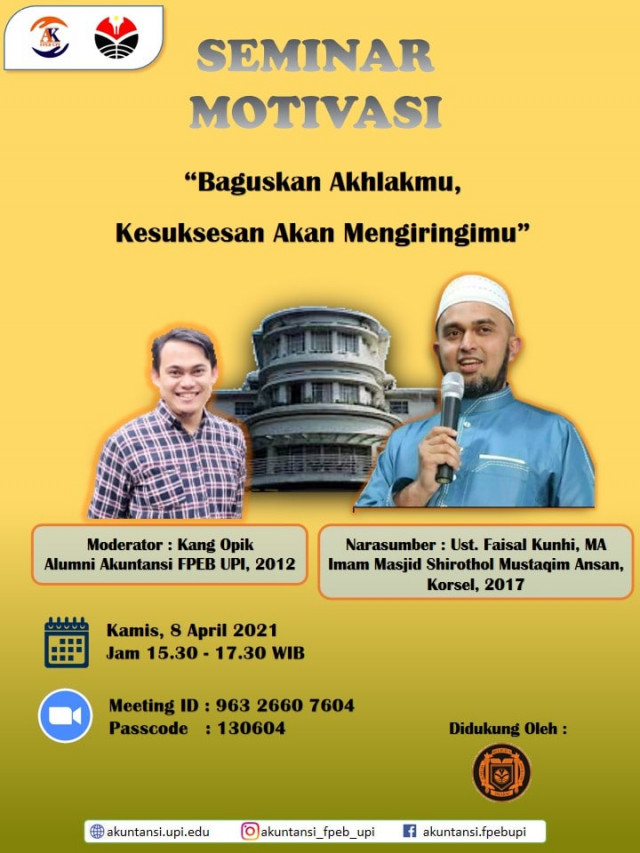 ---